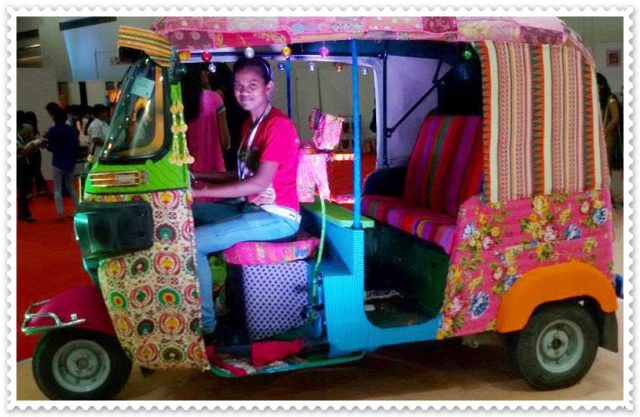 When we see women doing so well in the sky and space as astronauts and pilots, it shouldn't be so surprising to see women driving an auto rickshaw on road.
But in a city like Jaipur; that symbolizes traditions, culture and heritage, spotting a young woman driving an auto rickshaw that too around late night –is truly a bizarre experience.  It may surprise anyone. But Hemlata Kushvah does it every day and there must be many more like her in the city, earning a living through auto rickshaw driving.
Being a native, Jaipur is my regular weekend stopover. Unlike the other days, my train arrived a bit late almost quarter past midnight and I decided to hire an auto rickshaw instead of an expensive cab to reach home. While I was looking for one, in came an auto-rickshaw driven by a young woman clad in a blue apron.
Even before I got into the auto rickshaw, I had hundreds of questions coming in. Within a very brief encounter, I could learn a lot about this daring woman who proved women are no less than anyone.
Ditched by her own husband, she never gave up and got to her feet again. Hemlata chose to pursue a very unconventional career of driving auto-rickshaw in order to sustain her fight back and to carve out her identity in the awfully men dominated world, two men-her father and her brother supported her in becoming stronger and independent.
While now she has emerged as a successful woman and a self-reliant single parent, but there is a lot that she has faced during all these years after her divorce. She had to win many odds  including fighting case in courts, getting trained for driving, securing loan to buy her own auto rickshaw, winning commercial driving license, and gaining acceptance from the chauvinist male peer who believed it was only their cup of tea and women can never drive auto rickshaws on the road.
As efforts never go in vain, today Hemlata has not only won the respect & recognition from her colleagues but she is also on the board of the executive council of Jaipur Metropolitan Auto-drivers Trade Union. Being the secretary and the only woman driver, she understands the issues and concerns of the women passengers and drivers. Beyond making for a living, she is keenly working to bring change in the perception and attitude for women.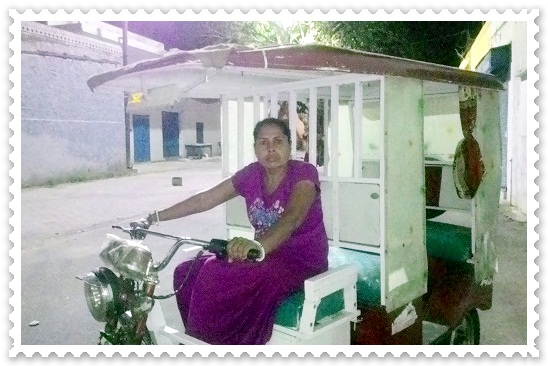 In quest of knowing if there were other women drivers like her in the city, the name of Raushni Sahoo popped up. This 50 year old female is recognized as the only woman driving an e-rickshaw in the Pink city and her story is no different.
Divorced for more than a decade and a half, lost her only daughter who was allegedly murdered by her in-laws; Raushni has faced many odds in her life. She did many things including selling vegetables on the streets until her mother got paralyzed but then she bought an e-rickshaw to earn more to pay for her mother's expensive medical treatment.
Today she confidently drives her e-rickshaw on the busy roads of Jaipur and earns well but this journey wasn't so easy when she found no one to train her to drive and she had to learn it all by herself, watching others and practicing it for perfection.
Driving an eco-friendly e-rickshaw, Raushni has not only managed a respectful living but has also set an example for women like her to create a self-sustaining, independent business through small investment.
Kudos to women like Hemlata and Raushni who have proved that there is nothing that only men can do and women can't. They also inspire many young women as how to be self reliant and earn respectfully even without a college degree. It is sure that as more and more women drivers join in the trade like them- both women drivers and women commuters will have a safe and happy journey.