I always adored my grandmother. Spending time with her and listening to her stories was something I have cherished the most. She used to say "women are like the Earth…it is in their nature to absorb whatever comes their way." I remember laughing and telling her that the world has changed and, "Biji! Woman today holds the whole world in her hands. Gone are the days when we had to take whatever came our way. How old fashioned!"
Years later, this conversation comes back to me. Many of us live life on our own terms. I, like countless others, have followed my dream and have been successful. While the society applauds our achievements, they don't see what all it takes to make it large; how much we have to juggle to keep-up our family, work and social commitments. In a house of men (my husband and two sons), keeping semblance falls under my purview. Though men in my family are very unconventional and cooperative; work is not divided traditionally yet my inherent feminine nature makes me to take on more than I can handle. And that's where my grandmother's words come to my mind. I fear that in pursuing my dreams, I might be neglecting my duties as a home-maker and this subconscious apprehension also drives me to take on more than I can manage.
It's not the society that's judging us. We keep doing it for ourselves. Many a times, we bite off more than we can chew because we feel guilty. We presume that our primary responsibility is to nurture and take care of others, completely forgetting that it is equally important to look after our own selves. There are no preset rules to help striking a balance between career and family. This is something we have to decide and create a winning formula for ourselves. At the end of the day, if the choices we make, make us smile, we know we are on the right track.
---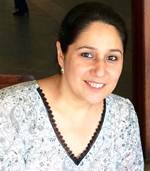 Author –  Artika Bakshi
Artika co-manages thegoodbookcorner.com. She comes from a family of lawyers and has a master's degree in International Banking & Finance. Currently based in Sri Lanka, she teaches Commerce and History on a part-time basis at an international school and enjoys being part of the literary scene in Sri Lanka. A regular at the Galle Literary Festival and other literary events in Sri Lanka, Artika's articles and book reviews have featured in various blogs and reputed publications.
She is actively involved with SAARC Women's Association of Sri Lanka.
An avid reader, Artika runs an online book club with a membership base of over 600 members. Her passion for reading has led her to helping other writers with their manuscripts.
You can reach Artika at bakshiartika@gmail.com .