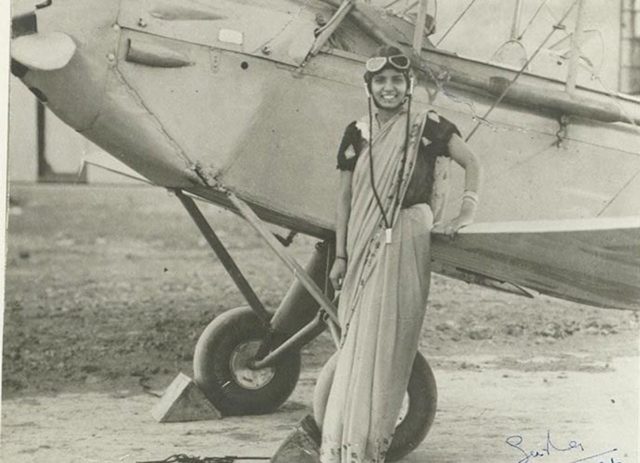 But for woman like Sarla Thakral –Even the Sky wasn't the Limit. She became the first Indian woman to fly an aircraft that too in an era when equality and empowerment for women was story bound.
Today on the eve of the International Women's Day, WomenID team takes up this amazing and inspirational story of a strong woman personality who created her identity beyond equality and showed the world that woman is no lesser than anyone.
The way WomenID considers that Women is blessed with infinite prowess and merely advocating equality or seeking parity is of no consequence; Sarla Thakral proved that with resolute passion and determination, any woman can carve her own ID (Individual Distinctiveness).
We thank Ms. Vidisha Krishan Paliath –for sharing this exclusive narrative on the inspiring life of her Great Grand Mother – Smt. Sarla Thakral:
Being a woman never prevented her from dreaming high, even getting married at the early age of 16 and having a four-year-old daughter could not stop her from becoming the first Indian Woman to fly Indian Skies. This extremely bold & beautiful lady dressed in a Sari who flew a Gypsy Moth solo was my Great Grandmother – Sarla Thakral. Over the years we fondly called her 'Mati' and that is how I will refer to her henceforth in this Article.
My Great Grand Father, Captain P.D. Sharma, coming from a family of pilots and India's first Air-mail Pilot (his bust still stays established in Safdarjung Airport in New Delhi) saw no reason why his wife should not gain the same technical training of pilots. His views were strongly endorsed by his father and so began my Great Grandmother's training in flying. But life was never so easy for her, she lost her first husband who died in a crash in 1939, she went to Jodhpur to get a commercial pilot's licence. Unfortunately World War II broke out and all civilian flights were suspended.
A strong sense of identity, the irrelevance of gender and a premium on individual achievement were ingrained into Mati from her early years. Though yes, today her husband and father-in-law are credited with her being a pilot, I remember her telling me about her father, who was a firm and resolute AryaSamaji believing in the rights of women and campaigning against the Purdah system.
At the time of Mati's marriage at the early age of sixteen her father had only one condition for the boy's family to adhere to. He said, "I will give you my daughter, if you promise me that she will never be made to wear the Purdah. If that is acceptable, only then will I marry her to you."
The message given by Mati's father at that time needs to resonate today from every Indian father for his child. It may be for asserting his daughter's right to work, to play, to study, to wear what she wants, against dowry…the list is endless, but yes, we need many more fathers like him today.
Mati would recount several anecdotes of being the only woman without a Purdah in her In-laws where all the other women would grumble and needle her from behind their veils that she was brazen.
Eventually, Captain P.D. Sharma and My Great Grandmother, Mati moved to Lahore where they both became pilots and in the course of time two daughters were born to them.
Mati got the 'A' license after successful 1,000 hours of flying and was all set to obtain the 'B' license which would have given her the opportunity to fly a commercial plane. But this dream had to wait to be fulfilled. While working to get this license, World War II broke out and civil training was suspended. After the war broke out, she returned to Lahore to join the Mayo School of Arts and got a diploma in fine arts.
After the sad demise of her first husband, at the age of 24, She was left with two young daughters in Lahore. Partition followed soon after , she moved to Delhi, where she met Shri R.P Thakral who became her second husband. He was undoubtedly a strong supporting loving and liberal person. She was an ardent AryaSamaj follower which made it easier for her to remarry as widow remarriage was greatly encouraged. She dabbled in designing costume jewelry, and also supplied it to Cottage Emporium for 15 years. One of her clients was Vijayalaxmi Pandit. She successfully took up costume jewellery making, saree designing, painting and designing for the National School of Drama in her later years. Her paintings are extraordinary and still adorn our house, inspiring the younger generation to excel in Art.
I remember her profound connect with Vedic Hinduism. Being a teenager who had been recently introduced to quantum physics I would argue with her over religion and science. I would read Stephen Hawking and argue over the need for a God if everything is based on a mathematical formula and she would say all calculations and formulas are echoed in Hindu hymns if only I could understand it. And the true liberal she was she never suppressed my thought process but encouraged it with an unwavering belief that her faith had all the answers.
If you ever wanted to see a brave a clear headed person who ploughed through life everyday with a fervent need for work you should have met Mati. I once asked her why are you always knitting, stitching, making jewels don't you get bored? She replied, It's the only way I know to not think of all the people I have lost over the years. I don't like the feeling of loneliness. Besides, my name is 'Sarla', my methods are simple". She is no more but all her work is around us, and fortunately will always be.
Vidisha Krishan Paliath